First Look: To See or Not To See
The First Look: To See, or Not to See
That is the question... I'm asked all the time.
What is a "first look"?
The first look is a private moment for a couple to see each other for the first time on their wedding day before the ceremony.
Weather or not a couple wants to do a first look is a personal choice. There can be pros and cons and it is completely up to you.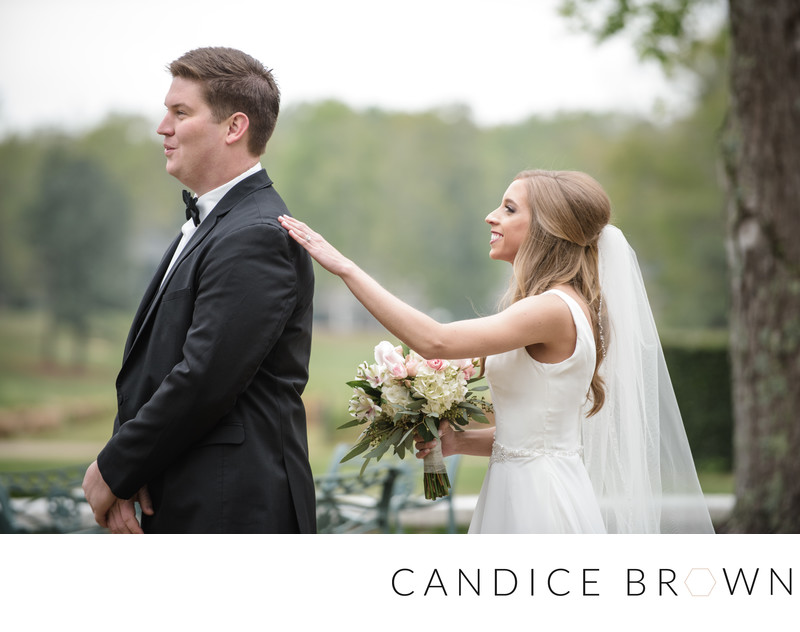 Why would you want to do first look?
Seeing each other before the ceremony relieves stress jitters and nerves. Having this private moment can make the rest of the day more enjoyable.
If you are going to cry, you'll be able to freshen up before the ceremony.
You won't miss cocktail hour. If you have a first look, then you can also take family formals, wedding party pictures, and your couples portraits before the ceremony. Therefore allowing you two to head straight to the party once you say, "I do".
To piggyback on that idea- a first look can mean more time to be with your guests at the reception.
Privacy. If you feel uncomfortable showing uninhibited emotion with a room full of people have all eyes on you, then a first look might be the way to go. Many times brides dream of their spouse have a big emotional moment when she is coming down the aisle, but the reality is that many times he is trying to hold it together rather than be emotional in front of people. The same can go for the person walking down the aisle. This is one reason I think making a decision about the first look is quite personal and unique to each couple.
More time together to in private and enjoy the moment. There is more time to visit with each other and stay in that moment together.
Most likely have more time for couples portrait. This will be determined when we make the timeline, but more often than not, we are able to plan for more time with just you two than if we don't do a first look. Provided everything runs on time, of course.
If it's a winter wedding and it gets dark early, you have the option to have your portraits taken during daylight
You can choose the location. Obviously, the traditional route only allows for this to take place at your ceremony site. With a first look, it can be anywhere.


Cons of a first look
Just like there are advantages, there can be disadvantages.
If at any point during the day up to this point runs late, we often lose out on time for the first look and portraits. Portraits end up getting pushed to after the ceremony.
You have to get up earlier or get ready earlier and be in your wedding clothes longer. For some this isn't a big deal, for others, this is everything.
Friends and family will not be a part of when you see each other for the first time. While some like the privacy, others really want to share this moment with those they love.
You just might get a wee bit dirty. Anywhere outdoors it will be 100% impossible to keep dress 100% pristine.
You have to do your own touchups unless you hire hair and makeup to stay longer.
If you do a first look before your ceremony won't actually be married in the portraits. In my experience, this is the least concern for couples, but it is worth a quick mention.
If you feel strongly about not doing the first look on the wedding day, but your feeling pressure from a bridesmaid or someone else, don't make your decision based on what someone else wants you to do.
If it stresses you to think about a first look, if you feel weird about it, if you're worried about how you will react or how your spouse will react does it make you nervous etc.
Emotional considerations
Like mentioned earlier, if you are a person who does not like to be emotional around others, then you might be more comfortable having the first look. A first look can still be suspenseful, emotional, and special. Many Candice Brown Photography couples say they felt more comfortable and enjoyed walking down the aisle more because they didn't have those jitters.
What did you do?
I did a first look. Mainly because I have a large family and knew that pictures would take a long time. I didn't want to feel rushed or stressed during family formals and I knew my husband would be ready for the reception once the ceremony was over. That particular wedding tradition of seeing each other for the first time during the ceremony just wasn't that important to us.


What do you think we should do?
As much as I love being a wedding photographer, I also know that the wedding day is not a photo shoot. It is the creation and joining of a new family. This is your day and the decision to do a first look is not mine. I understand that this answer might not seem immediately helpful, but you have to be the one to choose. Do what is best for you!
The Newest "First Look" Ideas
Parent First Looks
Obviously the moment a dad sees his daughter in her gown has always been special. Now, it has become a planned moment so that photographers can capture his reaction forever. Obviously, seeing his son look dapper also creates great pride, but more often than not, a dad is helping his son throughout the getting ready process. I have photographed weddings that included a mother/son first look.
First Look with Your Wedding Attendants
Some brides shop for dresses with their friends and family, and other times she keeps the dress a complete secret. The latter is when we plan a reveal time for the bride with her maids. It is often a moment full of cheers and tears with best friends.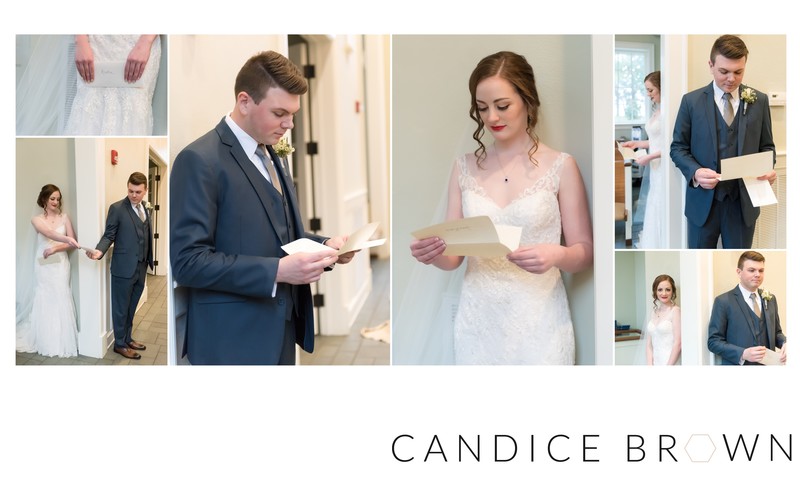 The "No-Look"
Many couples want the special moment together that a first look provides but still also want to keep with tradition. This is when a No-Look enters the picture. The couple will be close enough to talk and hold hands, but not actually able to see each other. During this time they may chat, pray, exchange gifts, or read letters they have written for each other.
If you can't decide, please reach out to me! I would love to talk with you about your thoughts, the timing of your day, and help determine if the first look is a good fit or not. Again, I will offer my professional opinion but the choice is still up to you.
First Look: To See or Not To See