What to Wear for Your Engagement Session
Engagement Sessions: What to Wear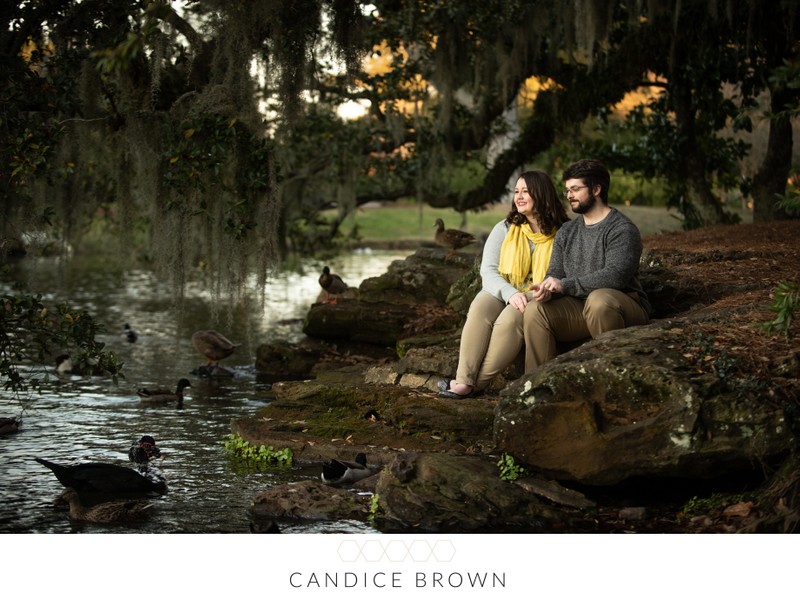 Being engaged is a very brief but important time of your life. That fun time you begin planning to start a completely new chapter together. And, it's full of multiple celebrations leading up to your wedding day! I think engagement sessions are more than just having fun having Save the Date photos made. I think these sessions are important because they document this exciting stage of your lives.
A lot of clients ask what they should wear to the engagement session. Well the first step is to choose a location.
Where should we have pictures?
Locations set the scene to capture who you are as a couple. Engagement pictures are a way to show off your personality as a couple in ways that might not be possible to do with the time restraints of a wedding day. I like to advise couples to incorporate things they like to do together in their engagement session or have their pictures taken at a location that has special meaning behind it. If you two love hiking, then let's take photographs somewhere outdoors in wooded area. If you enjoy being on the water or going to the beach together, then take pictures at the beach. Even better—set up a romantic sunset cruise on a sailboat for your session. The possibilities are endless. It just takes a little thought and communicating with your photographer. Family land that has nostalgic value is also something to consider. What if you don't have any "special" places? No problem! There is absolutely nothing wrong with picking a location simply because you think it is pretty.
If you have already booked your wedding venue, that can be a nice location too. You booked it for your wedding, so that must mean you love it. Another plus is that venues often waive the photo session fee if you book them for your main event.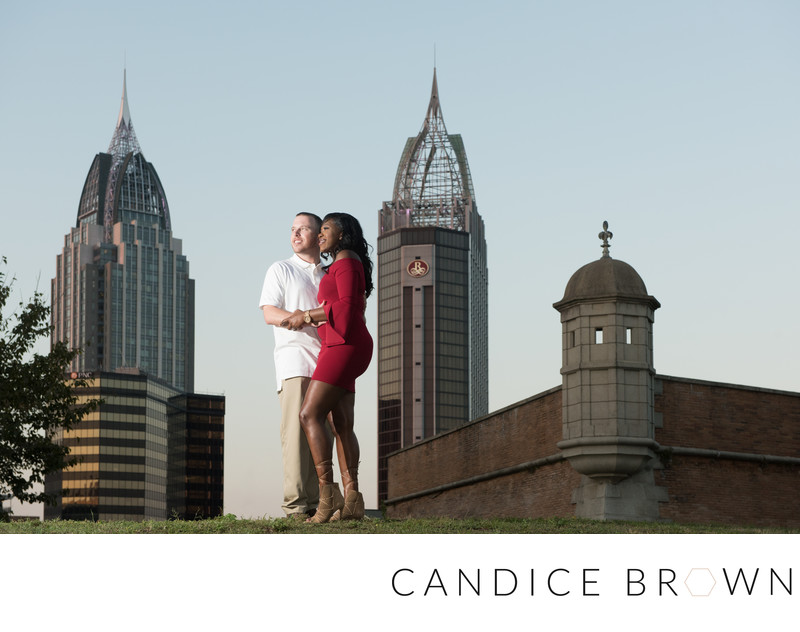 Think about if you want a certain "look." Blake and Tiara told me they wanted their pictures to have a city and architectural vibe and I knew of the perfect locations for that! If you want, say... a rustic look. Communicate that to your photographer and they should be able to make some good suggestions.
Don't be afraid to be different!
I can't tell you how many clients aren't able to tell me what they want, but they can tell me what they don't want-and they don't want their pictures to look like everyone else's. (Everyone being all their other friends and cousins who have recently been engaged or married.) A change of scenery can be exactly what does the trick.
Pro Tip:
Consider having your engagement photos done in a different season than your wedding. Though, admittedly, on the gulf coast there is not a huge difference in landscapes from season to season. Summer wedding? Perhaps have a fall engagement session. A winter or Christmas wedding? Plan on a lovely, flower filled spring day for your engagement photos.
What should we wear?
Don't feel like you have to dress a certain way. We are always the most confident when we feel like ourselves! If you love wearing flats will you feel like yourself in a pair of towering heels? The most important thing is that you feel natural and that you are wearing something that is representative of who you are.
That being said, it is a good idea to dress up, or go out and buy a fun new outfit you absolutely love. An engagement session is also an investment. It is something you're paying for and you won't love your images if you don't love how you look in them. Some of that love depends on if you love the outfit you're wearing. Don't stress about it, but do put thought into it. Consider either buying a new outfit or having your favorite outfit pressed at the cleaners. New, crisp clothes (or newly pressed clothes) look better in photographs. A small detail, but small details do make a difference.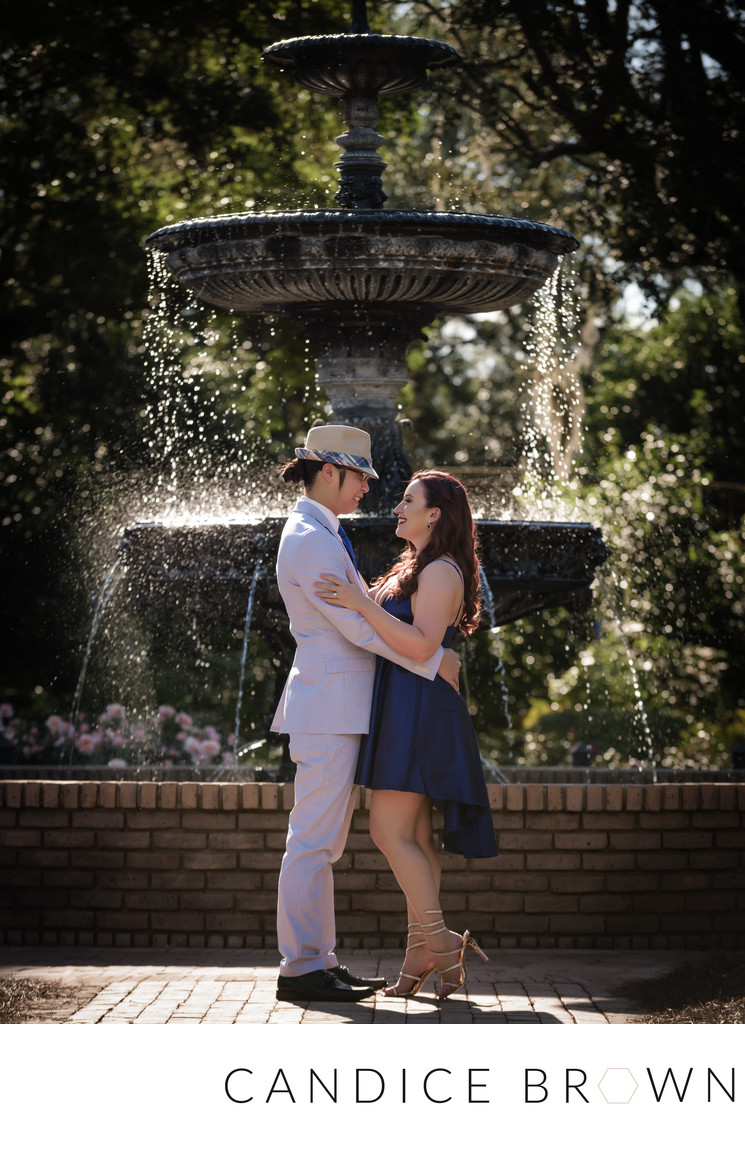 When planning your outfits consider your location. If you are in downtown Mobile or downtown Fairhope, a sleek cocktail dress or tailored suit would be nice. On the other hand if you are in a field or at the beach, a flowy dress and something more casual would be appropriate. OR you can go the opposite direction! A fun juxtaposition, like wearing evening gown in a field, creates a contrasting scene that can be very compelling.
Remember that comment above about being different? Opting for formal wear can also make your pictures stand out. Being on the coast, our general attire tends to be a little more relaxed that other parts of the world. Except for carnival! Why not pull out your white tie Mardi Gras attire and sparkly evening gowns for your engagement session?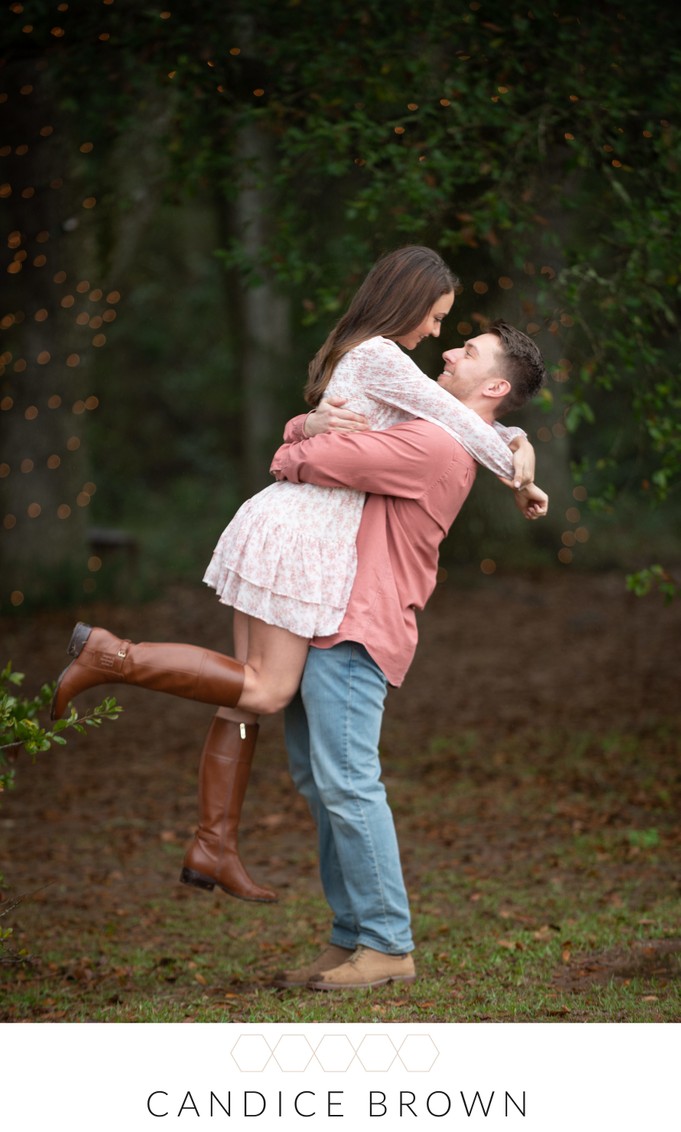 DON'T feel like you have to be matchy-matchy. Coordination is great though – colors that complement each other or are in the same color family, complementary styles etc. DO, however, match one another in the style. If you are in an evening gown then your future spouse should be wearing a tux or some other clothing that goes with it. You want to look like you showed up for the same party.
I always recommend staying away from big characters, large logos, large floral patterns, or large stripes on guys such as rugby shirts. I don't like fishing shirts because they wrinkle way too easily, and stay away from anything that has too many pockets, i.e. cargo pants/shorts. Also if you are doing the very popular trend of mixing patterns, be extra careful that you don't go overboard. We never want your outfit to pull attention from your face.
If you have already booked the hair and makeup artist for your wedding day, consider using them for your engagement session as well. This is a great time for a trial run. While a professional hair and makeup artist is not a requirement, they can certainly help boost your confidence and ease the getting ready process on the day of your session.


Celebrate your culture!
Not all of us are lucky enough to have ties to an interesting cultural background. Celebrate what makes your family unique!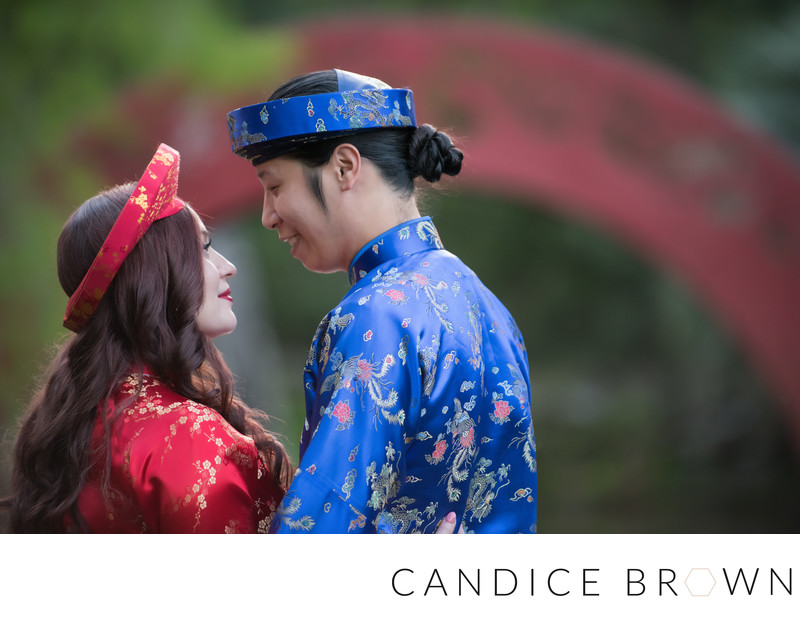 Should we bring props? What else should bring with us?
Props are absolutely not required but welcome if there are items you want to incorporate into your picture. I've photographed several couples who brought props that had their wedding date on it and those are images they used for their save the dates. I do suggest limiting the number of props to just one or two. After all, the point of an engagement session is to create beautiful portraits of you two interacting together. Too many props can often times become a distraction instead of enhancing your images.
Can we include our children or pets?
Pets and children are ALWAYS WELCOME at your engagement session. After all they are a part of your future family. When including your children or pets, I strongly suggest limiting their involvement. It is a good idea to bring a family member who can keep them for the remainder of your session. Otherwise you will spend valuable time tending to kids and puppies. You won't be able to relax and have fun being together if you are trying to keep an eye on everyone else.


What to expect:
Once we make it a predetermined location will get started. Then will take a walk and photograph along the way. I'm looking for beautiful light and incredible backgrounds that will be interesting for your portraits. A lot of times I'll have you walk hand-in-hand along in front of me because I want to see how you interact together as a couple. Often times I will set you in poses that are more like gentle guides and then I prefer for couples to interact. My goal is to get you interacting with each other as a couple so I can see what makes you laugh together and enjoy each others company. My goal in creating your images is beautiful light, flattering natural poses, and REAL moments. As famous photographer Cliff Mautner once said "We want to set this stage, not stage the moment".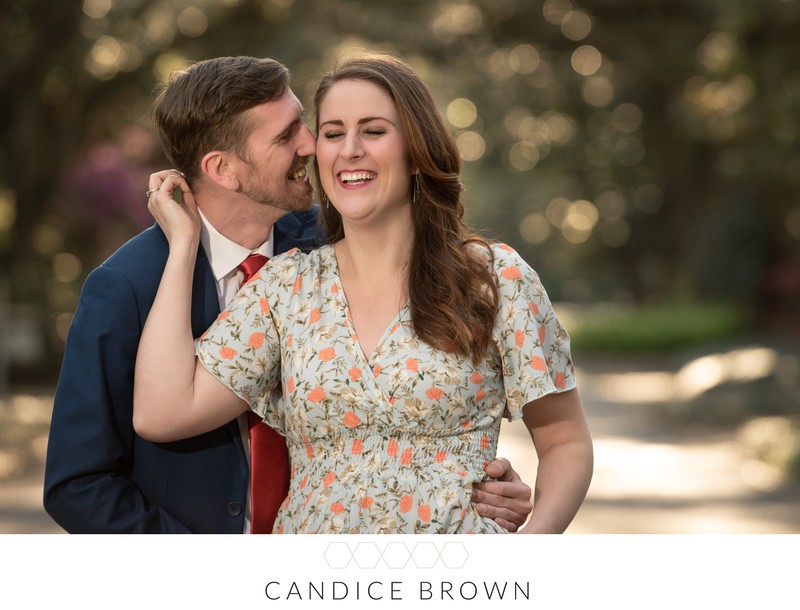 What to Wear for Your Engagement Session