Getting Ready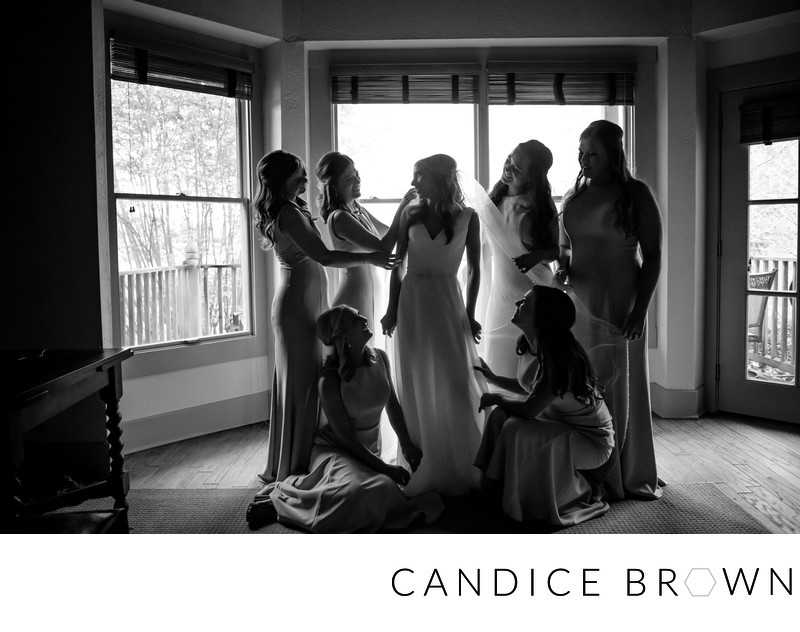 The getting ready portion of your day is a really fun part of the day to photograph! Typically, this portion of the day is when I begin telling your story. Couples gets ready either separately or together, surrounded by their attendants, family, and friends. How this part of the day looks varies from couple to couple. Sometimes the bride is getting ready with only her mother or best friend, and other times a bride could be surrounded by 15 bridesmaids, three aunts, two flower girls, 6 honorary bridesmaids, and puppy. Each wedding is different and that goes for the getting ready process as well. The same is true for the groom who could be getting ready on his own, hanging out with his parents, or surrounded by his best buds.
However you choose to get ready on your wedding day is absolutely up to you. The important thing is that you enjoy this time before the ceremony!
What gets photographed?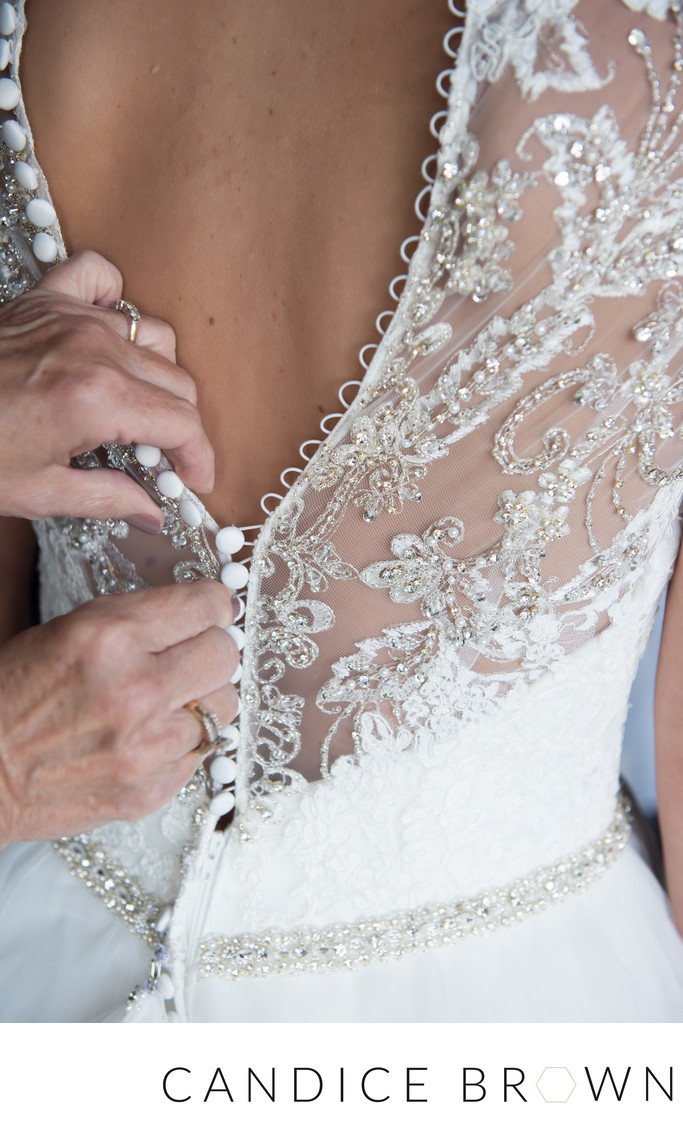 I like to start by photographing your wedding day details. These details often include your wedding dress, shoes, jewelry, the invitation suite, bridesmaids' gowns, veil, and any heirlooms that are important to you. Prior to the wedding day, we will have discussed exactly what specific items need to be photographed. Of course, for guys it is items like cufflinks, ties, shoes, custom socks, him having his dad help with his jacket or bow tie, etc.
By beginning with the details, everyone in the room has time to get accustomed to me being around with my camera. After a little while, people tend to relax a bit and aren't quite as camera aware, compared to when I first walk into a room. Once I've photographed the details, I can move on to capturing the fun, candid moments you have with your loved ones.
And while I absolutely love getting the detail images, to me it's very important that I also document the relationships and precious moments happening around me. In addition to being an important part of the wedding storing telling, they end up being some of the most intimate photos from the day.
After brides and grooms are 100% ready, I often take a few minutes to create some portraits of them in the getting ready space. If a couple wants to exchange letters or gifts, this is often the when those events take place. Parent first looks usually happen in this portion of the day as well, once everyone is 100% ready of course.
What do you need to be doing?
Nothing but having fun and enjoying getting ready for your wedding! From my arrival up to when you step into your dress, this part of the day is largely documentary (candid moments) and very little posing direction while getting ready.
I do have several tips listed below that can help make this part of the day go more smoothly, however, the photography portion is my job so please don't worry about the photographs.
How to Improve Your Getting Ready Photographs
I know above I said that there was nothing for you to do but enjoy the time on your wedding day, and that is absolutely true. However, I do have some tips to keep in mind that will help your day go smoother. Most of these are things you'll want to think about and consider prior to your wedding day
Tips for planning with your Hair and Make-up Artists
(This topic gets its own bullet points list because I have several suggestions.)
A good HMUA's are worth their weight in gold! Seriously. If you have room in your budget for a good makeup and hair artist, hire one!
Plan for extra time! Schedule your hair and makeup to be completed 45 minutes before you need to step into your dress. Hair and Makeup is notorious for taking longer on a wedding day. The more people they are getting ready, then the more potential there is for running behind. God Bless the HMUA's who keep everything on schedule! Added bonus: If everything goes as planned, then you will have extra time to relax and enjoy vising with family and friends and that is always nice!
Avoid being last to have your hair and makeup done

Because if the day is running late, we don't want hair and makeup rushing on you! Better hair and makeup be a rush job on a bridesmaid than the bride.
When you are in the middle, if you don't like your hairstyle or makeup, then there will be plenty time to correct it.

If possible, have your hair 100% complete before your final makeup touches. No one wants pictures of their makeup half done. Your final touch ups primarily when I'll photograph you having your makeup done. These images look much more complete if your hair is finished.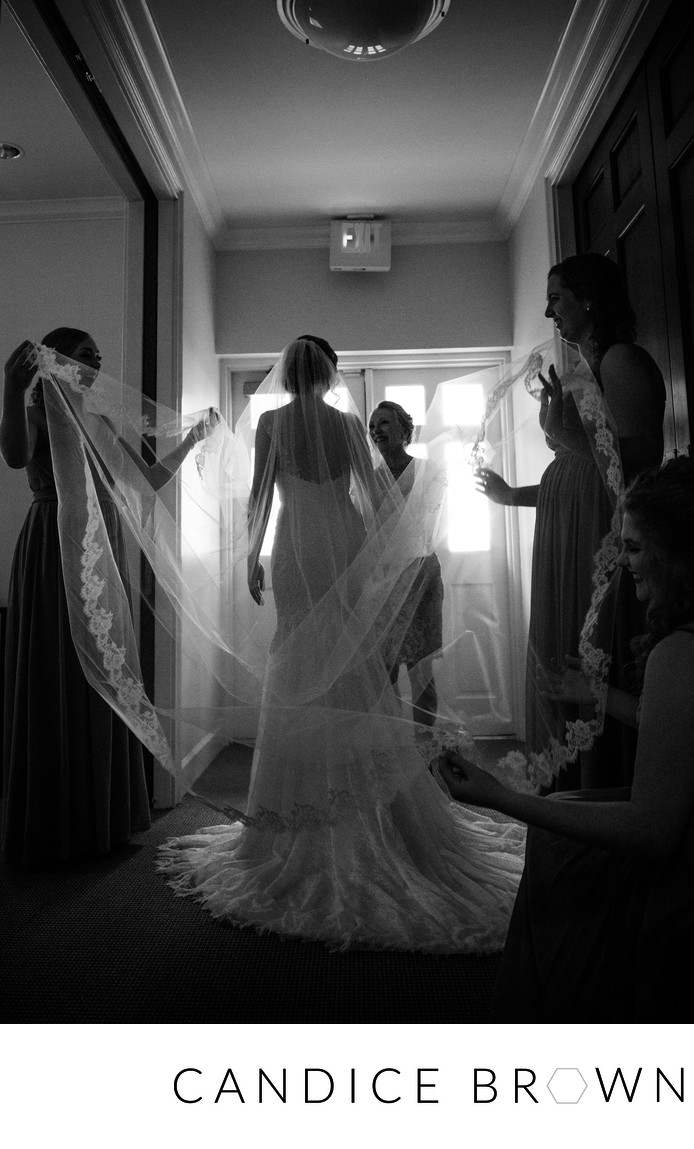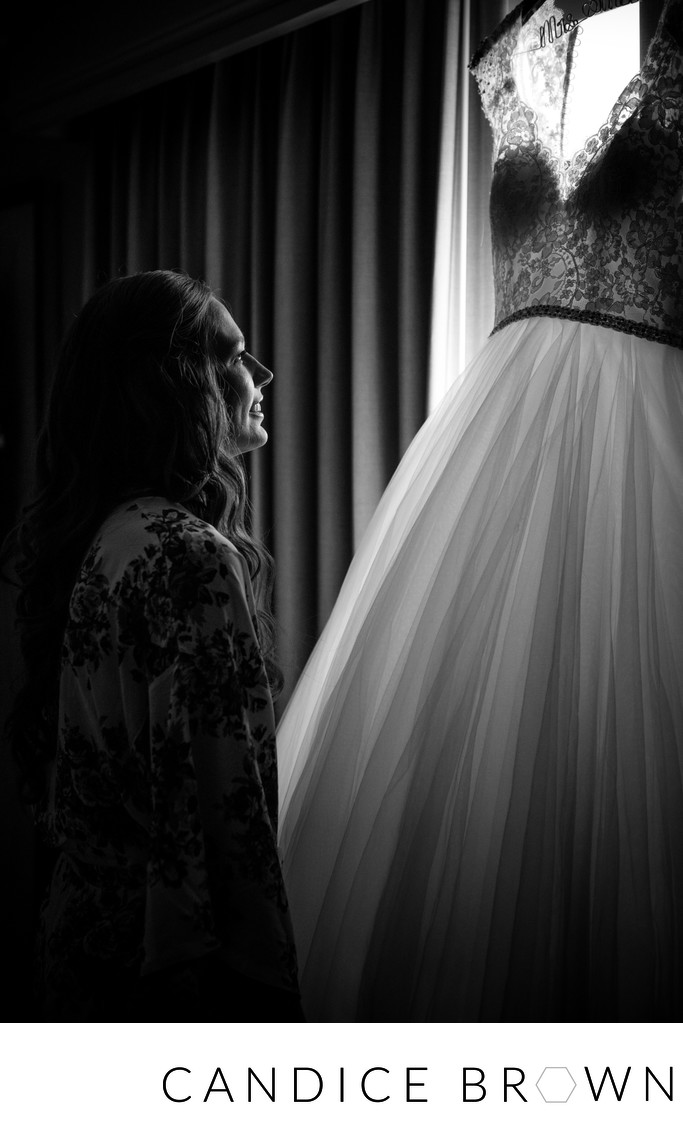 Other Tips for Great Getting Ready Photographs
Schedule time to actually get dressed. Allow 30 minutes to step into your dress, put on your jewelry, have someone help you with your shoes, etc. if your dress has lots of covered buttons, the whole process may take longer.
Mother of the bride and any other family or attendants helping you get dressed need to be 100% ready 15-30 minutes before you are scheduled to step into your gown. That way they will be ready when it is time for your turn.
Have all three rings together, if possible.
It would be great if we could schedule this part of the day to last 60-90 minutes.
Wear nice getting ready outfits. This goes for you, your attendants and special family members as well.
If you are wearing a strapless wedding dress, consider wearing a strapless bra so you won't have strap marks on your shoulders. Those marks take a couple hours to fade. If your gown is backless, consider forgoing a bra all together if you tend to get the marks across your back.
Have all of your details together in one place. This helps me work more efficiently and you don't have to stop the fun to scramble and collect everything.
Have all clothes and accessories prepped and ready! Remove tags and stickers from clothing, accessories, and shoes.
Have dresses steamed at least 45 minutes before you need to put them on, and even better to steam them the day before the wedding. Then, keep a steamer on hand for touchups. There have been a number of weddings I've photographed that bridesmaids didn't think to steam their dresses until it was time to get dressed, which then delayed the bride getting dressed.
If the veil came folded in a plastic baggie, remove it and steam it before the wedding day.
Keep the room free of clutter. (This goes for the guys too!) In general, this helps your people move around more freely and enjoy their time. For pictures, it keeps the background free of unnecessary distractions. We want you to be the center of attention. A closet or against a windowless wall are both good options for storage.
Remember to hydrate and eat. Not just mimosas, actual H20. I like to say, "Weddings are a marathon, not a sprint." Adequate hydration and nutrition will help keep your energy up so you can enjoy your whole day!
Proper tailoring is very important. Those wearing a suit, make sure it fits well and that all your pieces are in the bag. If you are renting a suit or tux, you might want to purchase a nice, custom shirt that fits just right.
Consider having a nice hanger for your gown
Consider providing fun beverages for everyone. Toasting with your people on while getting ready can make for some fun pictures. Side note: Remember the champagne flutes and make sure no one gets too tipsy.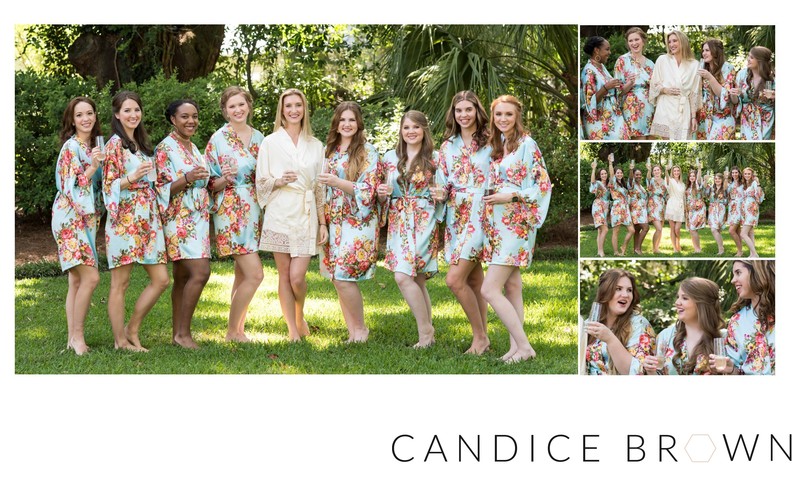 Handkerchiefs help keep people looking good in your photographs by taking away any extra shine (sweat) that our lovely southern wedding is know to cause. They are inexpensive and always come in handy for men and women.
Ask attendants and family members to remove personal fitness devices, distracting jewelry, and the ever-present hair-tie-on-the-wrist. It might be a good idea to bring up this subject with your circle before the wedding day.
If possible, get ready at the same venue or relatively close. I prefer to be the one to photograph both of you and being geographically close helps with logistics. My second photographer is always more than capable, but that person still isn't me and the photography won't be perfectly matched.
If you are getting ready at a hotel and want to take portraits around their property, make sure you have the proper permission. (Locally, the only hotel I know that requires a photo permit is The Grand Hotel. It doesn't cost anything extra, they just like the documentation and to know what wedding related activity is taking place around the property.)
If you are exchanging gifts/letters, then we need to allot time for that.
If you want to have a first look with parents, then we need to schedule time for that as well.